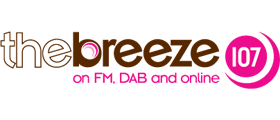 107.8 The Breeze Radio
Southampton and Winchester station Play Radio has become The Breeze 107.
The change, which took place on 31 July 2010, comes three months after Celador bought
Play Radio when Play Radio UK went into administration.
These stations have gone through various on-air names over the years, and this is the third name for
the station, which is a combination of two licenses - Southampton and Winchester - and the fifth name each
license has had over the years, as before being called Play Radio the station was called Radio Hampshire and
before the two licenses joined together, the Southampton station was called The Saint and previously SouthCity the
Winchester station was called Dream 107.2. Before then,after originally being launched as Win 107.2.
The Breeze 107 will broadcast from Southampton, which is where Celador's regional station Coast 106 broadcasts from.
The station will tagret female listeners in their 40s and 50s with a mix of easy listening music.